Beschrijving
SLR75-14 TRANSAXLE
With an innovative architecture based on the concepts used in F1, SADEV offers a gearbox of only 37.5 kg combining technicality, audacity and cost control.
In order to grant a better weight distribution, our design department has chosen to place the differential at the rear.
The other main feature of the SLR75-14? It has a structural casing. All the suspension and rear ends are fixed to the casing. F4 homologated by the FIA, the SLR75-14 gearbox has already convinced many chassis manufacturer.
TECHNICAL SPECS
6 speed sequential gearbox + 1 reverse gear
Manual sequential gear selection (external semi-auto optional)
External selector rocker (optional)
Bevel gear ratio: 10×31 or 8×31
The bevel gear is cut and grinded in house on our CNC units
Wide range of ratios available
Straight cut gears
Gear engagement made by dogs
Interchangeable gear ratios
High strength carburizing steel
Gear teeth grinded with optimized profile
Shot penning on internal parts
Specific input shaft
Free differential (limited slip differential optional)
Ramp and plate system – 3 discs type
Preload made by belleville washer
Wide range of ramp plates available
Reverse lockout cable (solenoid system optional)
Contactless gear position sensor
Splash lubrication system
Oil pump integrated (optional)
AS7G aluminum casing
Weight (input shaft included) : 37.5 Kg – 81 lbs
Engine torque max 400Nm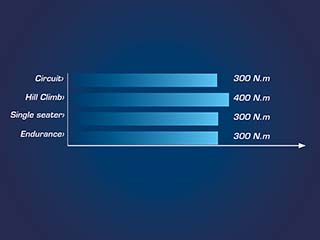 Accessories
Gear display
Push-pull cable
Mounting plate
Drive shafts
Hydraulic Paddle-shift
Applications
Circuit
Hill Climb
Endurance